We are a team of 8 GPs, 8 nurses, a clinical pharmacist, a dietician, a medical centre assistant and 8 administration staff servicing the wider Raglan population of around 5,900 registered patients.
The practice value a team approach to healthcare, with a strong emphasis on chronic care management, education and community-based care.
In 2019, we moved to a purpose-built clinic compromising of six doctor consult rooms, four specialist rooms, a minor surgery room, a 3 three bed treatment area.
Our services include:
GP, nursing and health care assistant consultations
Telehealth and virtual care 
Kaiawhina support
Family planning
Cervical screening
Vaccinations
Palliative care 
Wound care
Minor surgery
Liquid nitrogen (freezing) therapy
Asthma education
Diabetes management
Smoking cessation
Weight loss support
Sports medicine
Skin checks
Cardiovascular risk assessments
Travel medicine
24 hour BP monitoring
Spirometry
General health checks
For more information please visit our GP Services page.
EMERGENCIES DIAL 111
Urgent Care for Casual Patients
Please go to either:
Urgent Medical Care in Hamilton | Anglesea Clinic Urgent Care - 24/7
Te Rapa Urgent Care | Hamilton Medical Centre | Tui Medical - 24/7
Victoria Clinic - Hamilton Medical Centre - 8am - 8pm
Raglan Medical Practice Hours
(by appointment)
Mon - Fri: 8.00am – 5.00pm
Saturday / Sunday - Closed
9 Wallis Street (Map)
After Hours & Public Holidays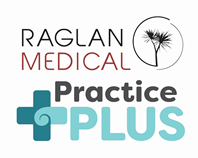 Practice Plus provides virtual telehealth to our registered patients on Weekdays from 5pm - 10pm and on weekends and public holidays from 8am - 8pm.  Click on practiceplus.nz for more information and to register.
Practice Plus Pricing
$65 for ages 14 and over
$55 for ages 13 and under
$19.50 for Community Service Card holders
Anglesea Clinic provides health services for our patients out of normal working hours, it is located at the Corner of Anglesea & Thackeray Street in Hamilton and can be contacted 24 hours a day on 07 858 0800.
Healthline can be contacted 24 hours a day on 0800 611 116 for free advice from registered nurses.
Current Vacancies
We are fully staffed and have no current vacancies.